Sleep in peace of mind
Guaranteed private space only for you that makes you feel like you are in your cozy room alone.
2F for mixed gender, 3F for only ladies.
Since 2F and 3F are completely seperate from outside, there is no chance to encounter any men on the third floor.
As mentioned above, it is designed for even women to stay safely.
Also, common area is under surveillance for 24 hours.
Private Dorm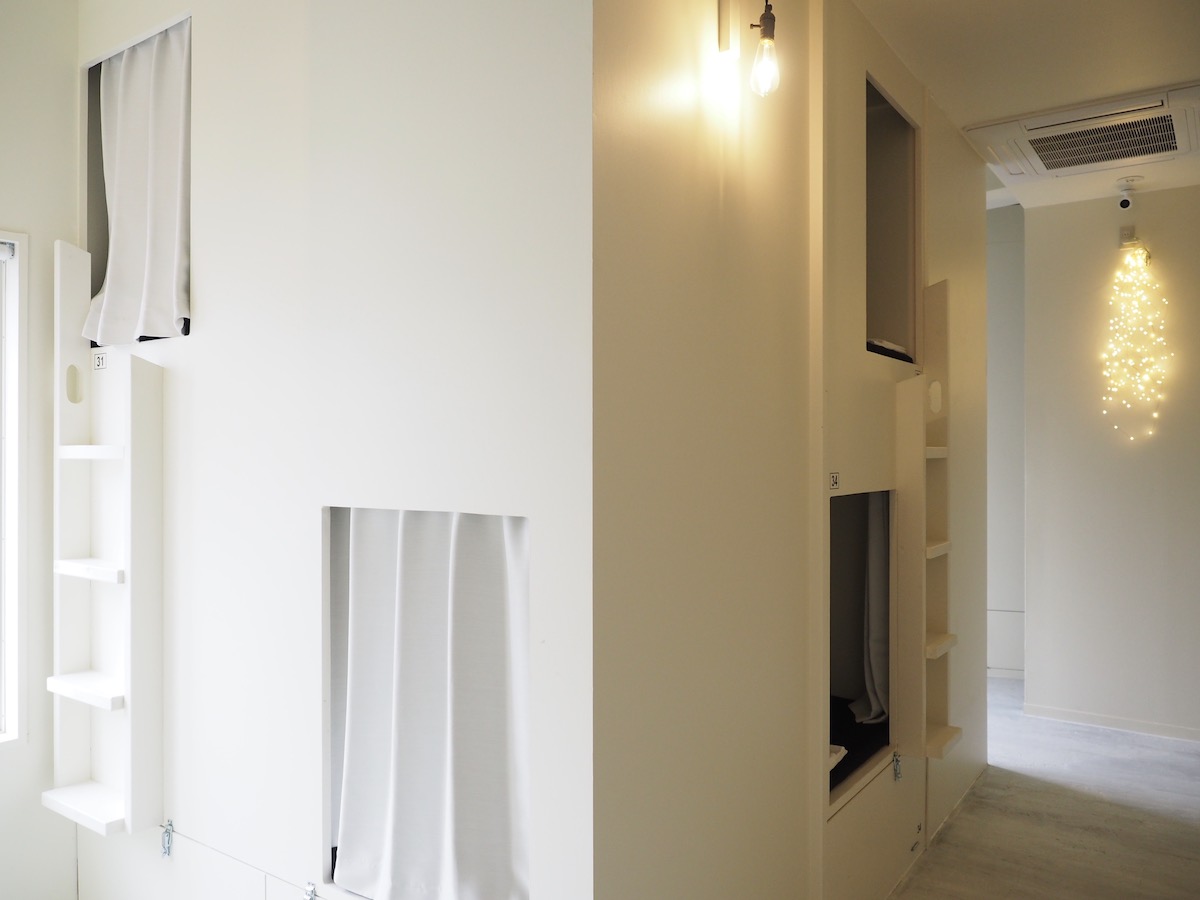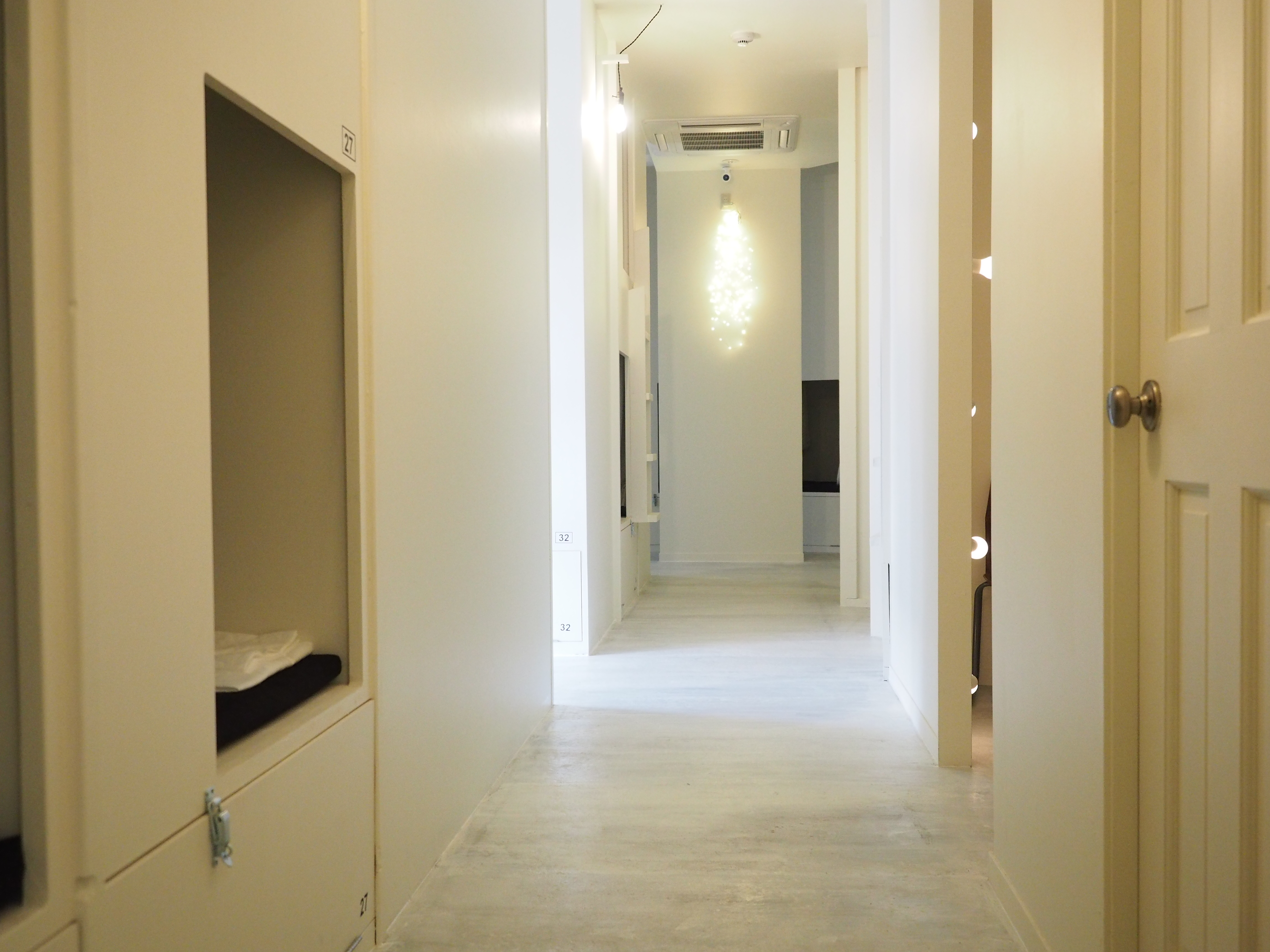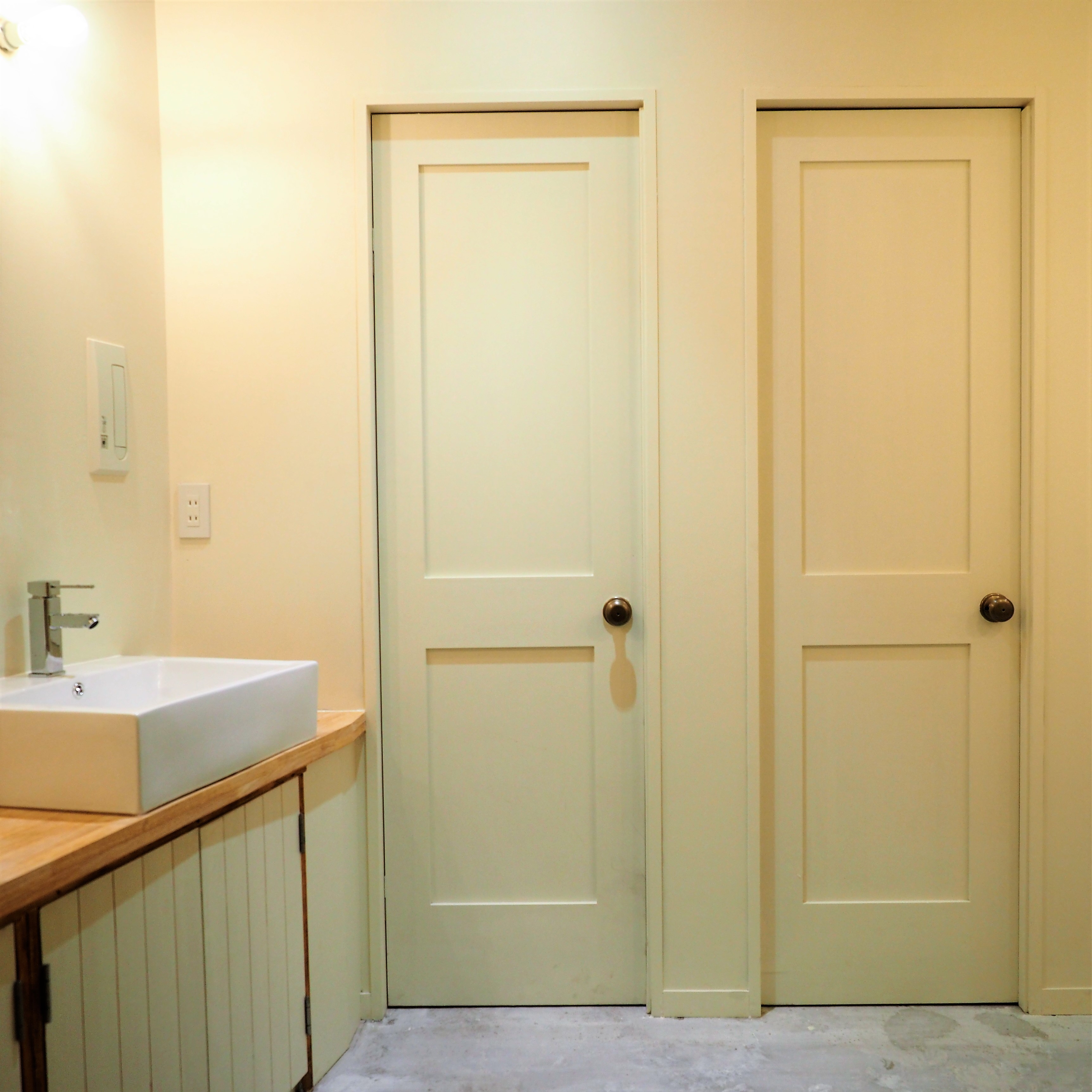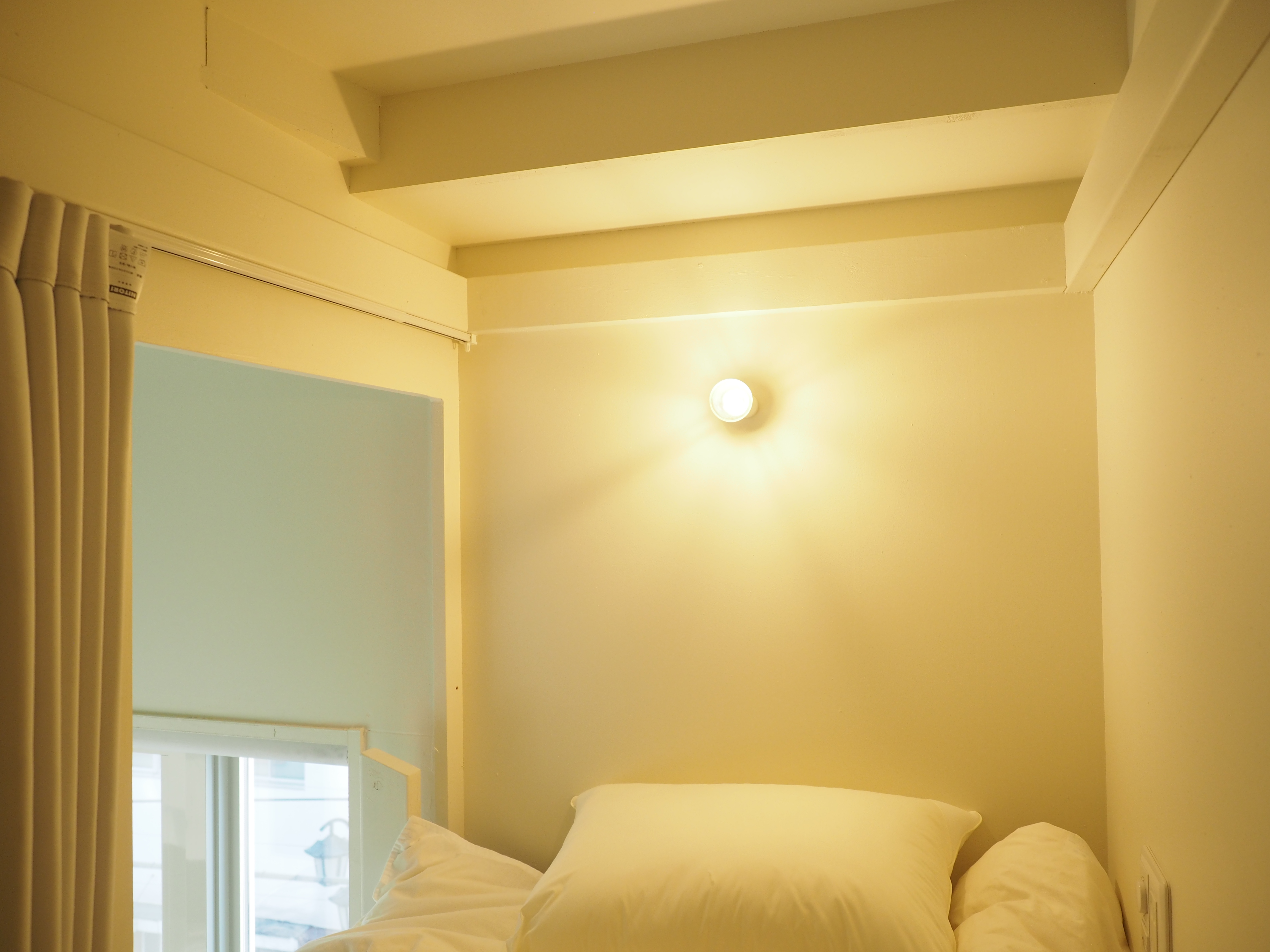 Rooms are white in color with brightness adjustable dim light, which makes you feel very cozy, as well as power outlets equipped.
In addition, one compartment for one bed to store a suitcase. it is absolutely big enough even for a big suitcase.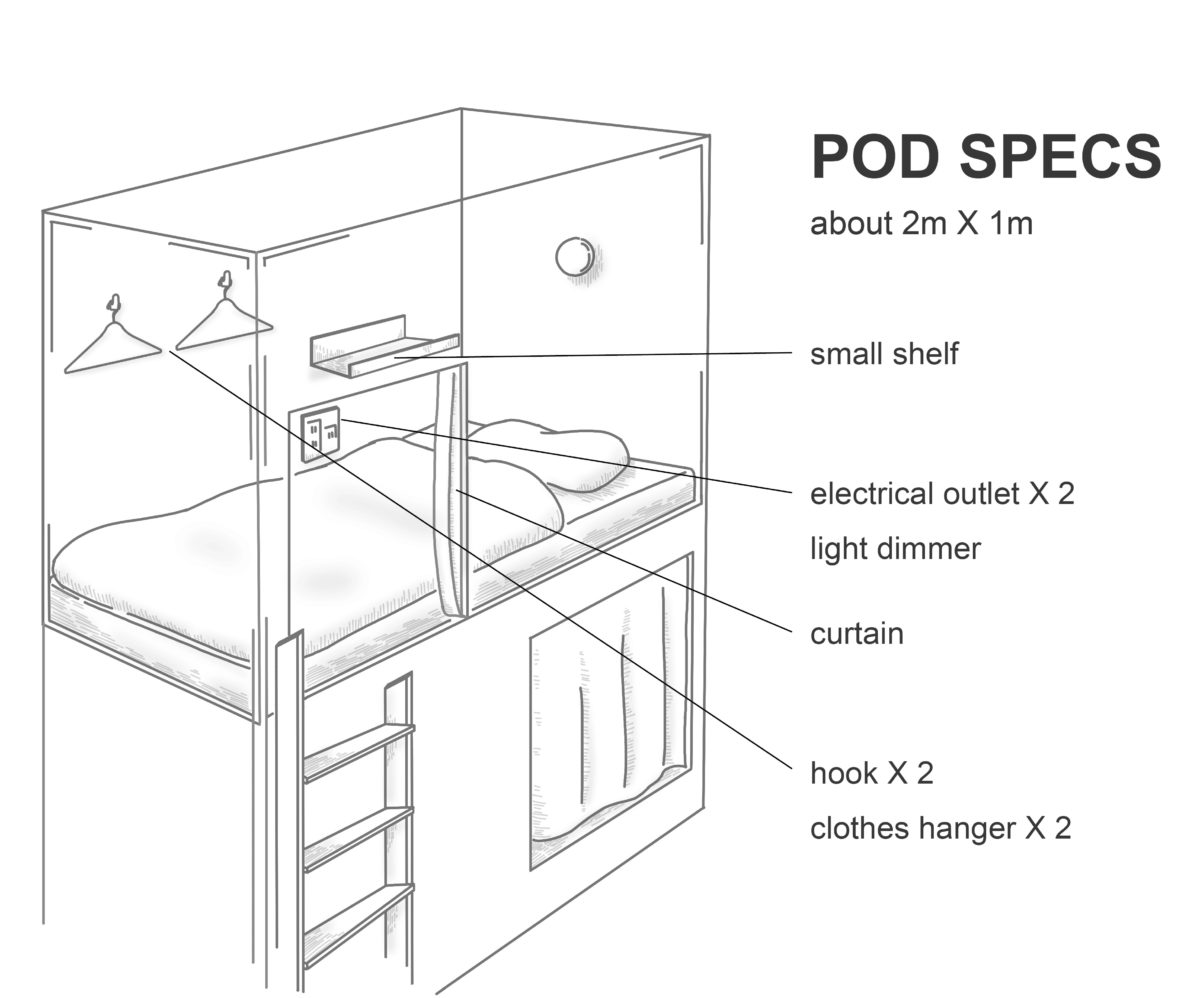 AMENITY&FACILITY
FREE Wi-Fi
High-speed internet
BATHROOM
Hot water in shower is available for 24 hours.
HAIR DRYER
6:30am-23pm
LOCK
Hinges for locks are built in compartments. Please prepare your own lock or you can purchase a lock at the reception.
LAUNDRY
WASHING MACHINE 200yen/4.5kg
TUMBLE DRYER 100yen/20min
RENTAL TOWEL
Rental towel for 200yen
TOOTH BRUSH
tooth brush for 100yen
EARPLUG
A pair of ear plugs for 100yen
FAQ
Q Business hours

— Please click here to check business hours

Q Check-In

— Check-in hours at the reception is from 4 p.m to 12a.m. Checking in before 10p.m. is strongly recommended in order to avoid busy hours by last minute check-in. In addition, please ensure to stay quiet when you enter the room late at night.

QChange of submitted arrival time

— It is not necessary to notify us unless you seem to fail in arriving within check-in hours.

Q In case of failure of arriving in time for Check-In

— We would recommend selecting a payment option of "Pay Now" at the moment of reservation since you will not be able to check in if you fail in arriving within check-in hours when your reservation's payment timing is "Pay At Hostel". On the other hand, "Express check-in" service via e-mail can be provided even after the end of check-in hours for those whose reservation has already been paid.

Q Change of booking dates, payment timing

— For change of booking dates or payment option, please proceed it on booking website that you used for your reservation.

Q Check-Out

— Check out time is 11a.m. There is not check-out procedure for those who do not have anything to return. Please leave at your convenience. Please click here for extension of check-out time to 2 p.m for ¥700 if needed.

Q Luggage storage

— Luggage storage during your stay : before check-in on arrival day, after check-out on departure day, is provided free of charge except for what can be possibly spoiled. In case of luggage storage during out of a period of your stay, ¥500 will be charged per day.

Q Parcels, mails

— Unless it contains anything that can be possibly spoiled, you are allowed to ship parcels or send mails to the hostel with your name and arrival date indicated on a postal slip. However, please ensure that delivery fee has already been paid. If they arrive within a period of your stay, deposit fee will be free of charge. Otherwise, ¥500 will be charged per day.

Q Curfew

— There is no curfew. As long as you have your key-code with yourself, you can access your room for 24 hours. However, please ensure to keep silent when you enter the room late at night.

Q What is "Key-Code"

— "Key-code" is 4 digits passcode for entrance of the hostel, which is issued to every single individual at the moment of check-in and automatically gets invalid after check-out time.

Q Meals included plan

— Meals included plan is not for breakfast. Please enjoy your meal at the cafe lounge between 11:30a.m to 9p.m.

Q Location

— Nearby stations are Yoyogi-Hachiman station and Yoyogi-Kouen station and the closest exits are North Exit and Exit No.1 respectively. Check the location on Google Map

Q Parking area

— We do not have a parking area in our property. Please use nearby parking lots if needed.

Q Bike rental

— LUUP Bike rental is available anytime in the property. Please click here to check the information.