Sleep in peace of mind
Guaranteed private space only for you that makes you feel like you are in your cozy room alone. 2F for mixed gender, 3F for only ladies. Since 2F and 3F are completely seperate from outside, there is no chance to encounter any men on the third floor. As mentioned above, it is designed for even women to stay safely. Also, common area is under surveillance for 24 hours.
Private Dorm 3800yen~
Rooms are white in color with brightness adjustable dim light, which makes you feel very cozy, as well as power outlets equipped. In addition, one compartment for one bed to store a suitcase. it is absolutely big enough even for a big suitcase.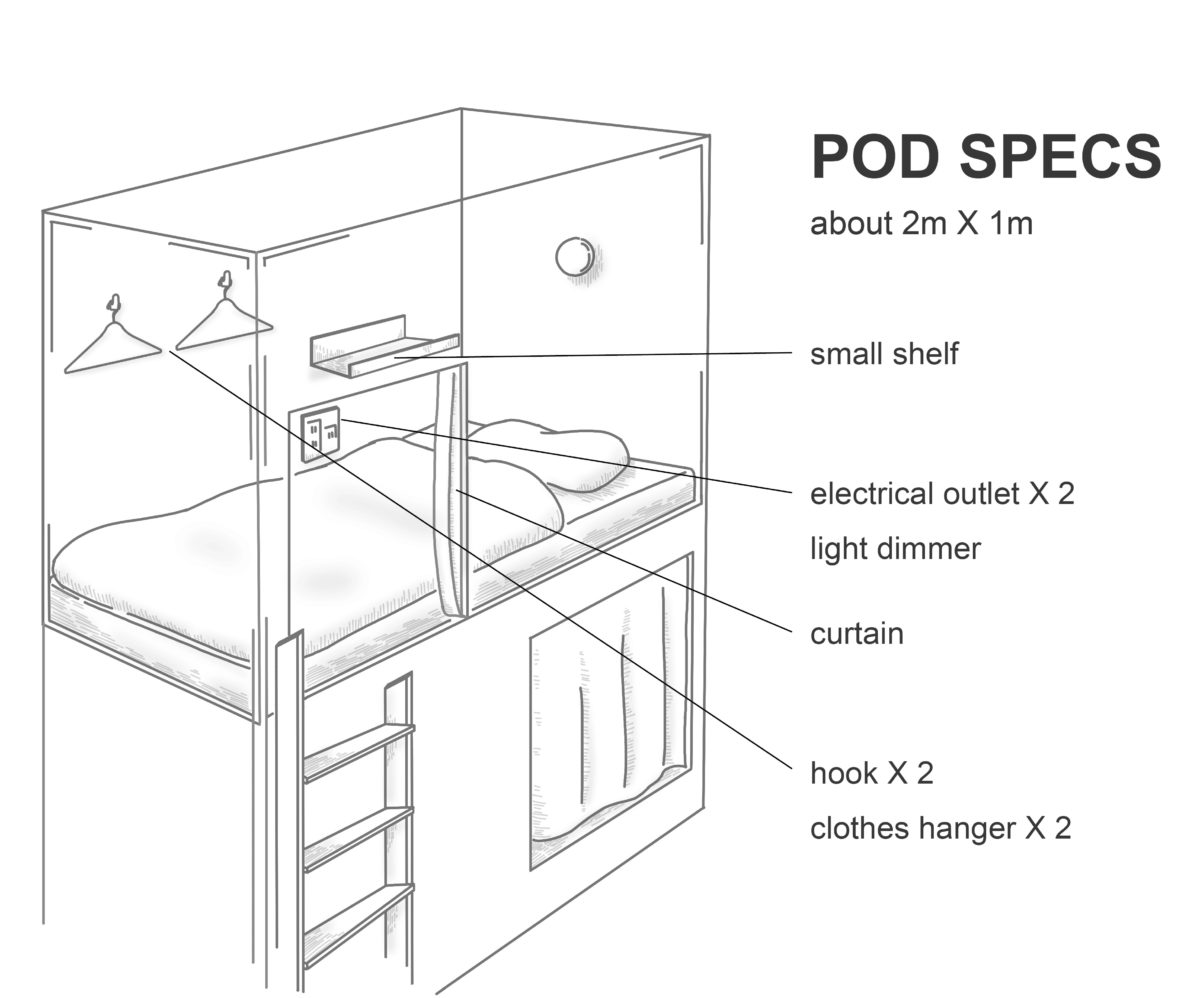 AMENITY&FACILITY
FREE Wi-Fi
High-speed internet
BATHROOM
Hot water in shower is available for 24 hours.
HAIR DRYER
6:30am-23pm
LOCK
Hinges for locks are built in compartments. Please prepare your own lock or you can purchase a lock at the reception.
LAUNDRY
WASHING MACHINE 200yen/4.5kg TUMBLE DRYER 100yen/20min
RENTAL TOWEL
Rental towel for 200yen
TOOTH BRUSH
tooth brush for 100yen
EARPLUG
A pair of ear plugs for 100yen
FAQ
Q Check-in, Check out

— Check-in is from 4 p.m to 1 a.m. Regardless of estimated arrival time informed at a time of reservation, check-in can be proceeded as far as it is before 1 a.m. However, in case of late check-in, please ensure to keep silent. Additionally, Check-out is by 11 a.m.

Q Luggage storage

— Luggage storage during your stay (including before check-in on arrival day and after check-out on departure day) is offered with free of charge. In case of luggage storage during out of a period of your stay, ¥500 will be charged per day.

Q Parcel, mail

— Unless it contains anything that can be possibly spoiled in it, shipping/receiving your parcel or mail to the hostel is possible with your arrival date indicated. In case of arrival within a period of your stay, it will be free of charge. Otherwise, luggage storage fee of ¥500 will be charged per day.

Q Curfew

— There is no curfew. As long as you have your key-code with yourselves, rooms are accessible for 24 hours. However, please ensure to keep silent if you get back late.

Q Key-code

— Key-code is a personal security code issued to every single individual at a moment of check-in, which is composed of 4 numbers and remains valid only during your stay. After check-out, it becomes invalid automatically.

Q Nearby station

— Yoyogi-Hachiman station and Yoyogi-Kouen station are the closest stations to the hostel. If you come from Yoyogi-Kouen station, please come through Exit No. 1.

Q Parking lot

— This hostel does not have a parking garage in its property. For that reason, if you plan on coming by a car, please ensure to search for parking garage nearby in advance.